Venue & Hospitality
Venue
Mercure Budapest Castle Hill
Participants of the Conference will be offered single (default option) or double rooms in the conference hotel itself.
For security purposes, the conference has policy for issuing official
Visa Support Letters
as follows:
• Visa Support Letters will be issued only after you have successfully registered and paid for your conference.
• Visa Support Letters can only be issued for the person accepted to attend the conference.
• Visa Support Letters will be issued via email in PDF format.
Please contact the Conference Manager at email id to arrange for a Visa Support Letter.

You must include:
• Your name as appears on your passport
• Your Passport Scan Copy
• And, Abstract Acceptance letter for Presenters.
Conference Dates: February 28-29, 2020
Hotel Services & Amenities
Audio/Visual Equipment Rental.
Business Center.
Business Phone Service.
Complimentary Printing Service.
Express Mail.
Fax.
Meeting Rooms.
Office Rental.
Photo Copying Service.
Secretarial Service.
Telex.
Typewriter.
Video Conference.
Video Messaging.
Video Phone.
ATM.
Baggage Storage.
Transportation
Driving Directions to
About City
Budapest's total territory is 525 km². It is surrounded by the administrative county of Pest, 81 settlements of which belong to Budapest's agglomeration. The city is 25 kilometres long in the north-south direction and 29 kilometres wide in the east-west direction. Its deepest point is the level of the Danube, which at normal levels is about 90 metres above sea level, and its highest point is 529 metres (Janos-Hill).
The city's importance in terms of traffic is very central, because all major European roads and railway lines lead to Budapest. The city is divided into two parts by the Danube in a north-southerly direction. The hilly left bank is called Buda, with over 20 hills within the territory of the capital, and the plain right bank is called Pest.
Budapest, now home to two million inhabitants, would appear countless times on any list of superlatives. The Continent's first underground railway was built here. From here originated more pioneering Hollywood film makers than from any other European city. Budapest was the home of such world class inventors as Kálmán Kandó, the father of electric railways

The climate of Hungary is cold, cloudy, humid winters; warm summers; the number of sunny hours exceeds 2000 yearly, and the average temperature is 11 C°. The city having three major railway stations, Main railway stations: Nyugati (Western), Keleti (Eastern), Déli (South) and Kelenföldi pályaudvarok. Public transportation includes BKV buses, trams, 3 metro lines, HÉV (suburban railway), cogwheel railway; other interesting means of transport: ferry boats, the Budavári sikló (Buda Castle Funicular), gyermekvasút (Children's Railway) and the Zugligeti libegő (Zugliget chairlift)
Hungary's official currency is the Hungarian Forint (HUF). There are a number of places which accept Euros too, but the exchange rate merchants tend to use is significantly lower than what one can get at a normal exchange office ora bank. The HUF coins' denominations are 5, 10, 20, 50, 100 and 200, while the banknotes are HUF 500, 1000, 2000, 5000, 10000 and 20000.
Approximate Costs:
1 kilo loaf of bread: 200-300 Ft / 0.8-1.2 EUR
1 liter milk: 190-240 Ft / 0.7-1 EUR
1 bottle of beer: 200 Ft / 0.8 EUR
1 bottle of table wine: 500-3000 Ft / 2-12 EUR
Eating in restaurant: 3500-5000 Ft / 14-20 EUR
Eating in fast food restaurant : 1000-1500 Ft / 3-5 EUR
1 litre of petrol / gasoline (octane 95): 450 Ft / 1.5 EUR
High-speed internet per month: 6-12000 Ft / 24 - 28 EUR per month
Taxi: 250-300 Ft /km / 1-1.2 EUR
Cinema ticket: 1500 Ft / 5 EUR
Museum entry fee: 500-1200 Ft / 2-5 EUR
Transportation:
Budapest's public transportation systems are operated by the company BKV. The service includes buses, trolleybuses, trams, underground trains (Metro) and above-ground suburban trains (HÉV). Buses, trams and trolleybuses run daily from 4.30 a.m. until 11.0 p.m. The three Metro lines interconnect at Deák tér Station, and service frequencies range from 15 minutes late in the evening to every two minutes at peak times. The HÉV runs to and from Csepel Island and Ráckeve in the south, Szentendre in the north, and Gödöllő in the east.
There are 3 main international railway stations in Budapest: Eastern (Keleti), Western (Nyugati) and Southern (Déli). More than 50 trains a day provide direct links between Budapest and 25 other European capital cities. Trains to Vienna run every 3 hours, 7 times a day. There is also a popular network of Inter City trains linking Budapest with the main Hungarian towns. All three international railway stations are part of the Budapest Underground system, the Metró. The Déli and Keleti are stops on the Red (Number 2) line and the Nyugati is on the Blue (Number 3) line.
Most of the main sights in Budapest are easily accessible on foot. But if you are tight on time or you feel that you have already walked enough for the day, our capital also has an excellent public transportation system with four metro lines and an extensive network of trams and buses. So it is really easy to get around!
The simple day pass is worth it if you would use the public transportation at least five times within 24 hours.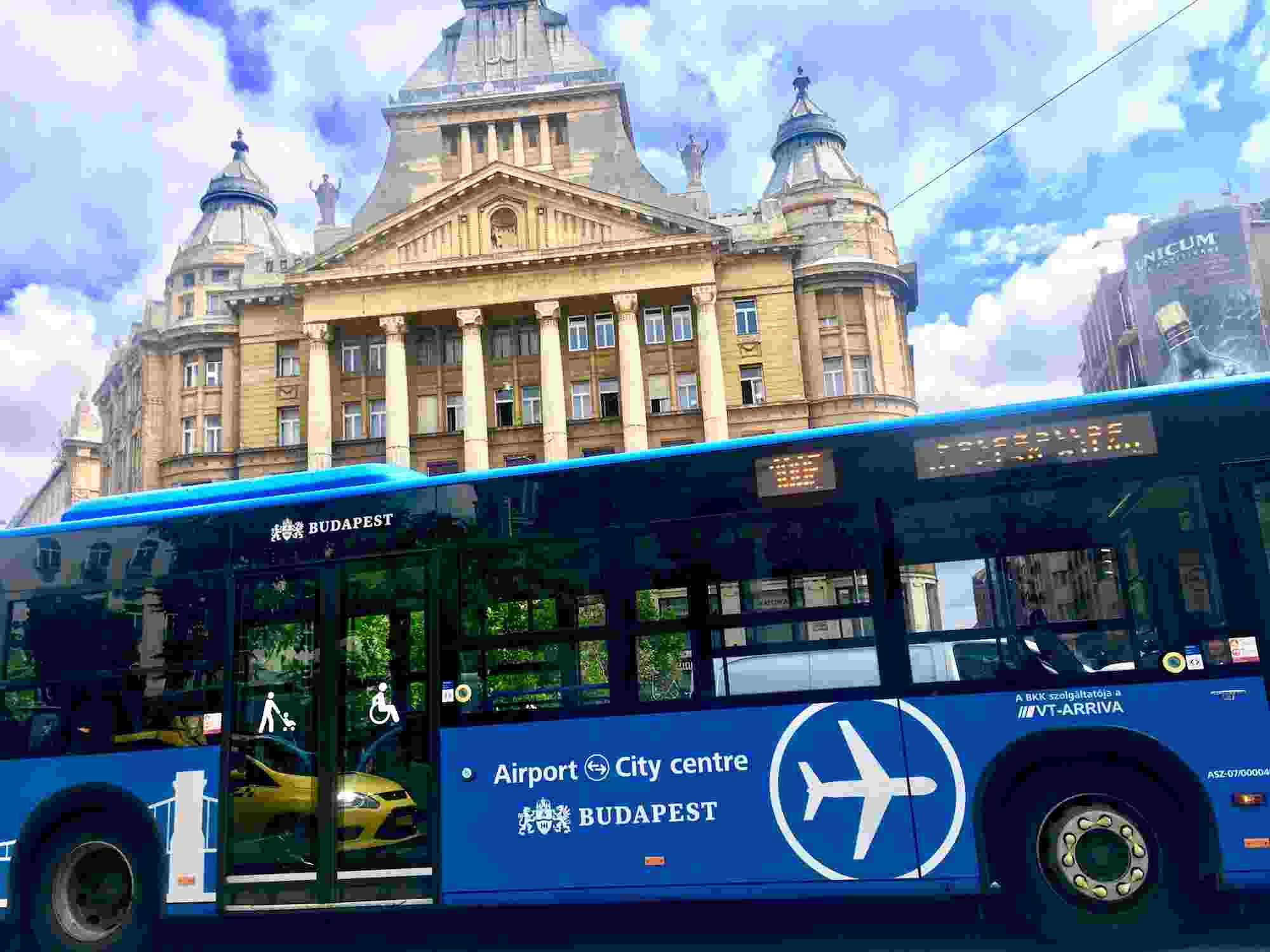 A direct shuttlebus (100E) operates between Liszt Ferenc International Airport and Deák Ferenc tér in the city centre. A special fare applies: the "Airport shuttle bus single ticket" for the price of 900 Hungarian Forints is required for each trip.Only the 900 HUF ''Airport shuttle bus single ticket" is accepted or travel, no other types of tickets or passes are valid."
Adults 65+ and children under 6 years of age travel for free.
The Airport shuttle bus single ticket is available at all BKK customer service centres, ticket offices and ticket vending machines.
---